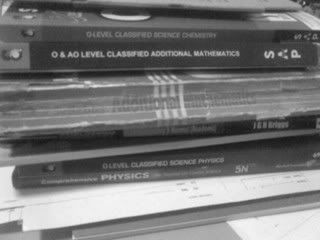 TONS OF STUFFS TO REVISE
I ENDED UP IN THIS STATE
LACKING OF SLEEP!
I woke up at 7am & look at my clock, 3 more hours to go. Another hour later, i woke up & check the clock. CHEE 8am only. Finally 9am! Woke up & quickly change into school uniform & continue revising before the final lap.
I started doing the physics first then Chemistry. Everything went on smoothly till i re-read the question. Draw on different paper for each angle. I WAS LIKE, FK LA!
Have a bad feeling i won't do well for my practical!
Ciao~